Am I really going to write this? Yep, I'm really going to write this.
So, I saw this photo (pictured) on twitter last night. Thought it was a fantastic photoshop because obviously Greg Wyshynski wouldn't have a hockey card that a real life human would buy for $27.01, right? Wrong. Apparently this is a real thing.
I'm a big "Wysh" fan. In fact, I should probably donate both Greg and Jeff Marek a few cases of Dogfish's finest beers considering they've kept me occupied on my treacherous commute home from work for the past 2 years or so. Even so, I am totally shocked anyone would buy a Wyshynski autograph for $27.01. Which got me thinking, what is Wyshynski's john hancock worth more than?
1) 1995 Sergei Brylin autographed Pinnacle.

This card is like new and was autographed by a real life hockey player, who apparently played for the Devils. Kidding, I know who Sergei Brylin is. The seller notes that this card is in "mint condition", which must be a lie because nothing originating in New Jersey isn't messed up. It ships from Canada, because of course it does. Greg Wyshynski's autograph is worth 4.5x more than Brylin's.
2) Scott Gomez autographed Upper Deck.

This autographed Scott Gomez card looks like it was "just taken out of the shrink wrap". Sort of like all of Gomez's sticks from his days playing with the New York Rangers. This card does have 1 watcher and is being sold for a bargain price of $2.50. No need for an auction here! Notice though, this card has an error. Gomez is pictured as a member of the New Jersey Devils, but the Rangers are listed as his team. Clearly a mistake, sort of like trading Ryan McDonagh for him.
3) Atlanta Thrashers alternate jersey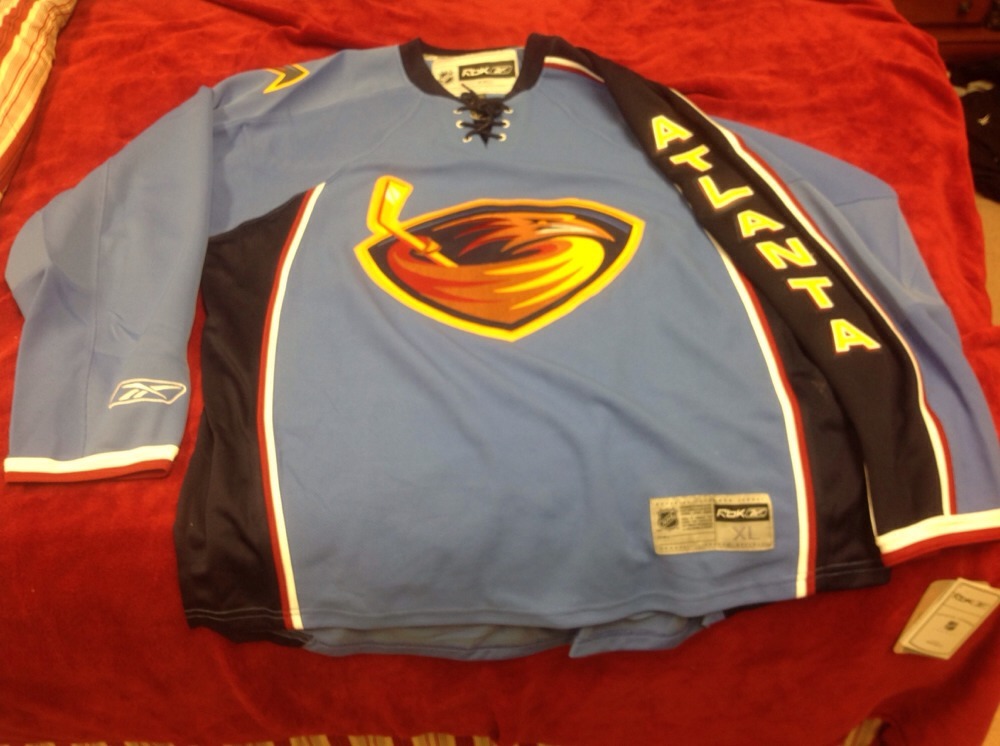 This jersey is listed at a 'buy it now' price of $15.99. However, you can submit your best offer. Please note though, that only bidders from Canadian hockey markets will be considered. Preferably from markets with an NHL quality arena.
4) Stephen Marek autographed baseball card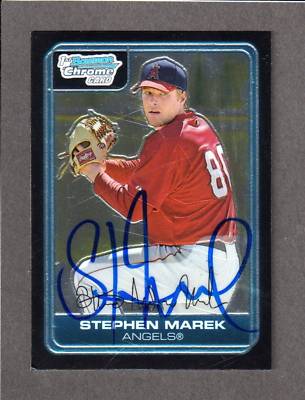 I have no frickin' clue who Stephen Marek is. He is a white guy with the last name Marek, who apparently is a baseball player in the Angels farm system. His only purpose is to show Wysh's autograph is worth more than Jeff Marek's. Unfortunately, there is no Marek autographed card on eBay. Bummer.
5) Gary Bettman autograph

This a Bettman autograph from the Stanley Cup Finals between the 2nd NHL lockout work stoppage and the 3rd NHL lockout work stoppage. This autograph offers cost certainty with a buy it now price of $12.00. Something all NHL owners will love. There is one watcher, who is likely Chris Chelios. Apparently Chelios has a very unhealthy obsession with Bettman.
Yep, so there you have it. 5 things which are surprisingly worth less than Greg Wyshynski's autograph. I'm ashamed for having wrote this.